STOP WISHING!
GO FISHING!
Beaver Lake, located in NW Arkansas, is one of the top ten trophy Striped Bass lakes in the country and the scenic views are the best you will ever see.
Beaver Lake's record for striped bass is 57 lbs due to the management and stocking program of the Arkansas Game and Fish Commission. To obtain a license click here or Call 1-800-364-4263
We are fortunate to be part of such a beautiful area and lake and proud to have caught and released several Stripers over 40 lbs. for our patrons, and for those who choose to mount their Trophy Striped Bass, the fish can be released after taking a few measurements for a Replica or the fish can be carefully frozen and be picked up by a Taxidermist.
I have 30 years experience Guiding and learning the movements and feeding areas in which these large predators can be caught.
I am a full time Striper Guide, licensed and insured. You can put your trust in having a safe, enjoyable charter no matter what season you choose to fish.
Early Spring fishing, mid February thru April, the fish are at their heaviest weight and that's when your odds of catching a real trophy Striper are at the highest. Thirty to 40 pound Striped Bass crashing on a large Gizzard Shad is something you will never forget. During the later part of April thru May the Striper can be caught on Top-Water lures such as, the Zara Spook, Cotton Cordel Red Fin and other Splash type baits. The excitement of these large predators coming up on a Top-Water bait takes a strong heart when the fish finally grabs the lure and takes off with it like a freight train.
Early June we are seeing the Top-Water bite start to slow down and the fish begin to start moving and grouping up and seeking deeper areas in which they are caught. Still keeping a Top-Water bait tied on and close by just in case we see a Striper chasing shad nearby to cast to. I'm using Live Shad also during this time of year with 6 to 10 rods in use, that's a lot of poles out for you to watch.
Summer, Late June thru September, Stripers are in their Summer Pattern and I prefer to use Downriggers that allow me to get artificial lures down deep enough to entice the Stripers to take the offering. Fish can get to 75 ft. deep during this time and Shad just won't stay alive long enough for us to use this technique.
Fall Fishing, the fish start their journey back to shallower water and begin to return to our river systems. War Eagle River and White River feed Beaver lake. Stripers can be caught in less than 2 ft. of water now and when one takes a lure or live bait your fishing reel better have plenty of line in it. Large Gizzard Shad is my preferred bait used.
Winter Fishing, can be one of the most productive times of the year with some very large fish being caught. Artifical Baits still can be used along with Gizzard Shad or Threadfin Shad. Catch and release is very important and can be done successfully during this time of year. By releasing after catching, there is one more fish in the lake for someone else to have the thrill you just experienced.
Which ever Season you choose to fish, I'll put you in the best spot possible and work much harder than the other guy, don't take chances, if you haven't fished with Ed Chapko yet, give him a try, you'll be back. Our repeat customers keep coming back, I don't do trade shows or try to get someone somewhat famous to fish with me, I just fish. God Bless you and your family. Good luck and thanks for visiting my website.
All material published here © 2019.
All rights reserved.
Recent catches, Summer bite is on. Fall bite is just around the corner.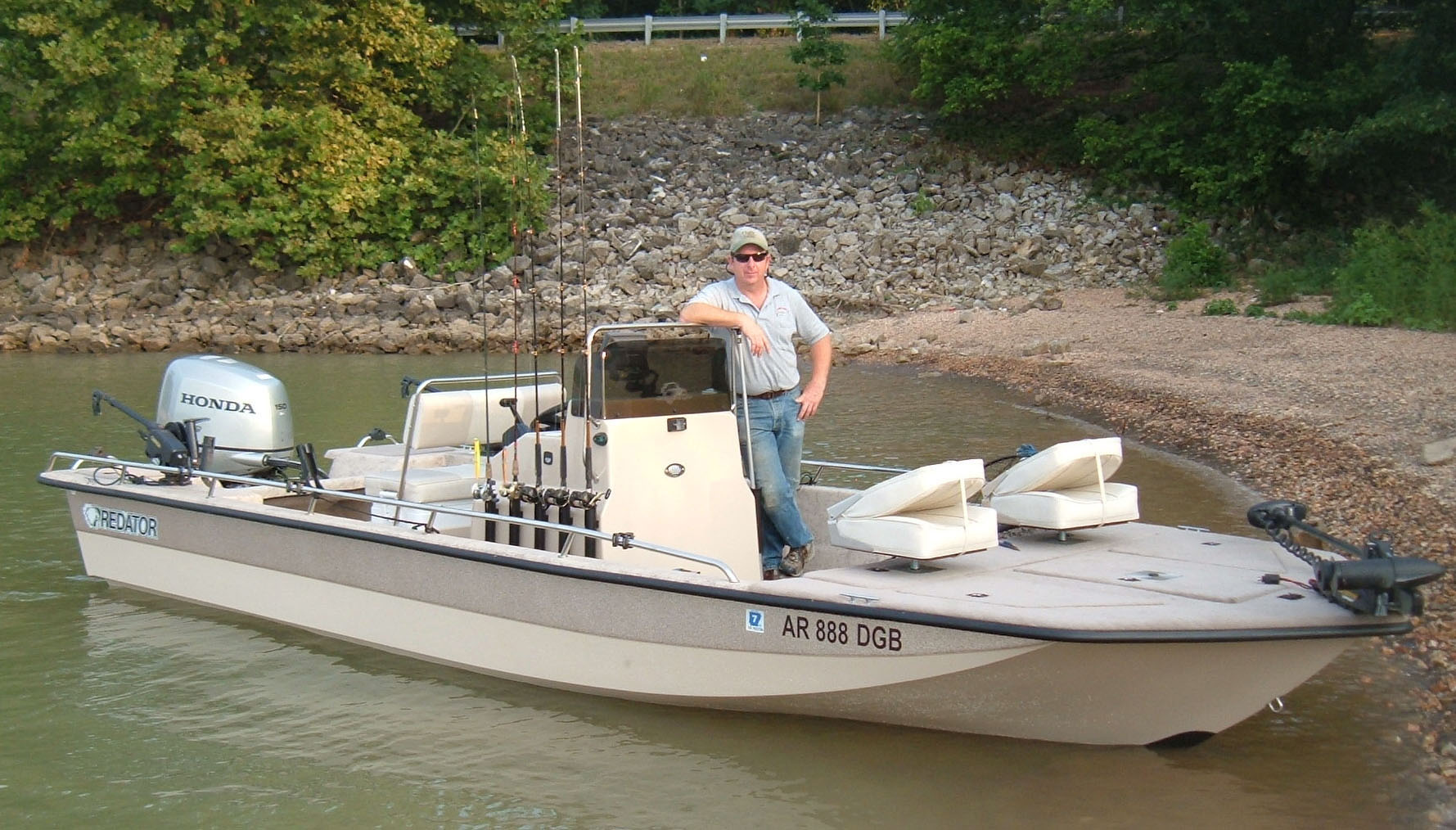 A 22.5' Predator Boat Fully Rigged with the Latest Electronics, Downriggers, Rods and Reels, Fresh Live Bait, Gas, and Fish cleaned & packaged.
What you should bring depends on the weather conditions. Dress accordingly also bring your camera, food and beverage to your liking, please alcohol in moderation or we will be going home early. Arkansas fishing license is required, a 3 day non-resident license cost $16.00.
Call 1-800-364-4263 to get your license with credit card.
Places to Stay while visiting
479-253-7699
(479) 925-1333
479-253-9050
800-925-1688
800-264-2214
Days Inn - 800-329-7466
Holiday Inn - 800-465-4329